Yamaha Music Frame with FM/Music Cast/Bluetooth - ISX18
Harmonises with the Decor
Both stylish and compact, the ISX-18 can be placed like a work of art to beautify any interior. A keyhole on the rear allows you to hang it on a wall.
Enhances Any Interior
The ISX-18 lets you express your taste and helps to create a more relaxing environment. In addition to good sound, it also provides pleasing appearance, color and texture to your interior, thanks to its uncompromised high quality.
The front panel manufactured from a single sheet of expanded steel mesh reduces waste, resulting in lower environmental impact. Additionally, the frame is cut from a single sheet of aluminum, providing high strength and texture as well as the luxury appearance of a modern art objet to enhance your room interior.
MusicCast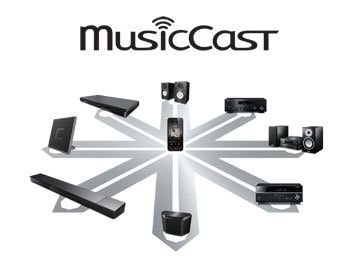 MusicCast is a new revolution in network audio, use all your MusicCast products together or separately, it's completely up to you. Control it, all from one app, designed to be intuitive, quick and simple to use. Use a soundbar, a wireless speaker, an AV Receiver, HiFi audio whichever suits you best, mix and match then expand your MusicCast system as time goes on. All new from Yamaha, the MusicCast system brings everything to everywhere for everyone.
Enjoy All Your Music Sources
MusicCast employs a high performance wireless network to deliver music and audio enjoyment. It can stream digital music content from your smartphone, PC or NAS to other MusicCast devices in your home. Audio content from Bluetooth-connected smartphones or tablets can also be streamed to MusicCast devices in multiple rooms.
Fine Sound Quality from a Slim Body
The ISX-18 uses a 2-way, 2-speaker system with a 2.5 cm (1") tweeter and 5 cm (2") woofer. These units employ neodymium magnets and there is a bass reflex port, so even with its small size, it puts out strong sound with good bass response. The high quality body is the result of Yamaha's audio expertise and technology.
Control App for Easy Operations
Simply tap the beautifully designed screen and take control of all the audio equipment and all the music in your home.
For more details, please visit MusicCast special page.
Stream via Bluetooth® or AirPlay®
You can hear all the music sources from your smartphone via wireless Bluetooth or AirPlay connection. You can play music from music apps, radio apps, or YouTube™-type video hosting services.
Bluetooth Output for Convenient Music Streaming
The ISX-18 is equipped with the latest Bluetooth technology, making wireless operation more convenient than ever. You can stream music from the ISX-18 to Bluetooth headphones for private listening or to Bluetooth speakers.