Indesit Tumble Dryer 8kg With Condenser A+ - EDPEG45A1ECO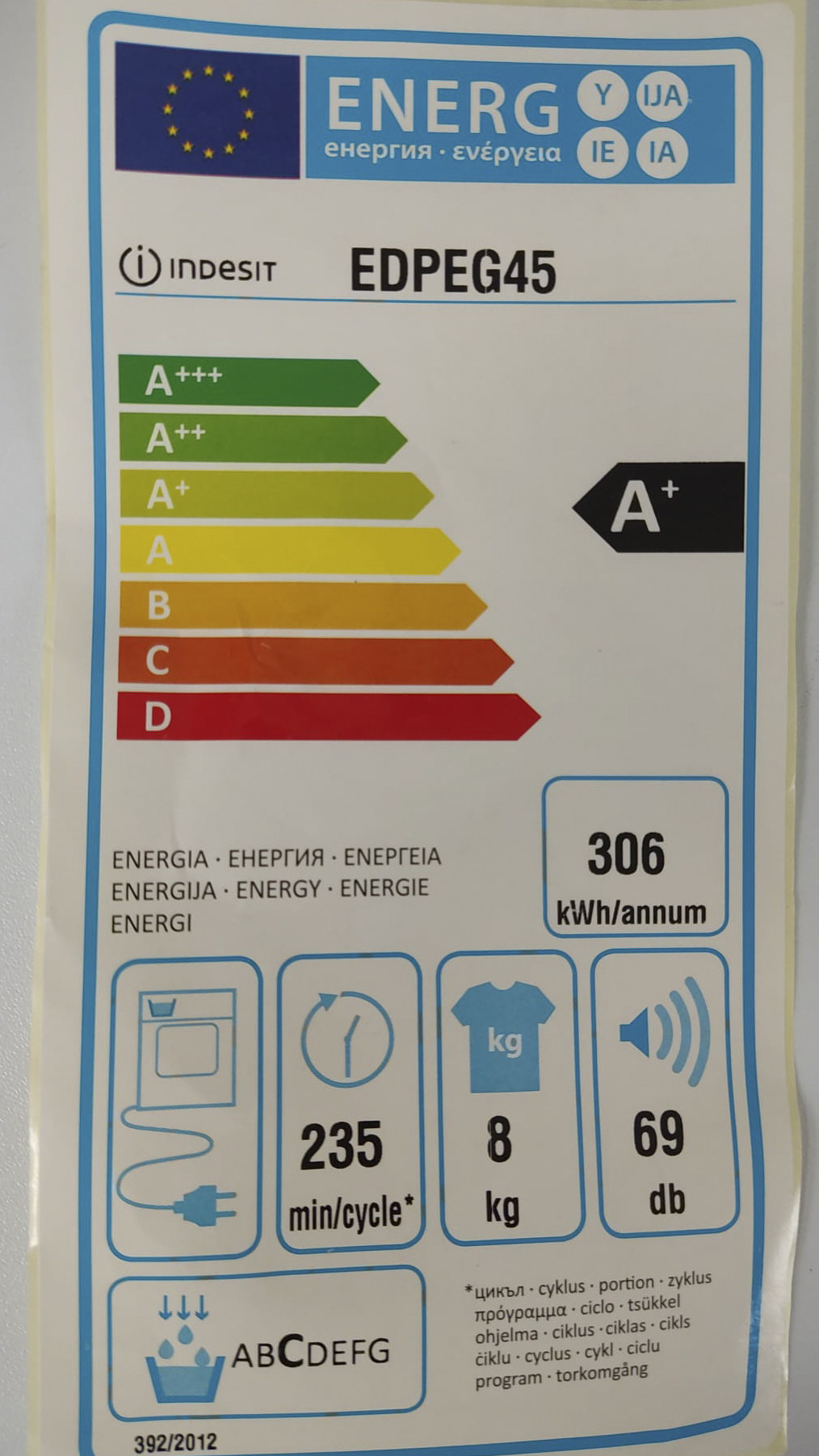 Product Fiche
Energy Saver
The Energy Saver exclusive cycle allows you to save on drying small loads. An electronic sensor detects the exact level of residual moisture, controls temperature and conductivity so that you can save energy and time up to 50% (compared to a cotton cycle of Class B models).
Anti-crease function
Anti-crease function ensures the utmost care and respect for tissues before and after the drying cycle. The alternate rotation of the drum avoids the formation of wrinkles. The clothes can be removed even after a few hours after the end of the cycle always soft and tight.
Thermo Air Technology
The new technology of Thermo Air Indesit dryer ensures minimum power consumption and maximum protection during drying.Thanks to the two flows of air circulating without the aid of a resistance, it is possible to minimize the dispersion of the heat and to save energy. In addition, drying at lower temperatures protects your clothes. The new class A + models allow you to save up to 10% energy compared to class A)
Automatic Drying Levels
Automatic levels used to define the desired level of drying. The Ironing option is useful for clothes that need to be ironed afterwards, while the Dry and Hang option can be used for clothes that do not need to be completely dry. The Cabinet option is designed for clothes to be stored in a wardrobe without ironing, while the Extra option can be used for clothes that must be completely dry (terry towels and bathrobes). The drying time can also be programmed (30 to 180 minutes)
Specifications
Freestanding
Front loading
Condenser drying system
Drum Capacity: 8 Kg
Drum Volume 112L
Efficiency Class: A+
Dimensions: 83H x 59.5W x 62D cm
More Information

| | |
| --- | --- |
| Product Brand | Indesit |